I really wanted to do something other than run today. My hamstrings have been feeling really odd & with IronGirl Sunday, I did not want to risk anything! So I opted for P90X's Cardio X.
Cardio X is a mixture of yoga, kenpo (aka kickboxing), plyometrics, and core synergistics (core focused moves). It's a really great workout, especially since it keeps my attention & I don't get bored :)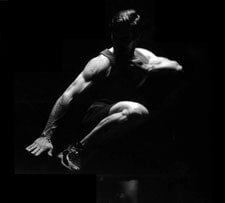 one of the plyo moves - "the heisman"




I really wanted to do another workout once I finished Cardio X...so I browsed the OnDemand selection & found this: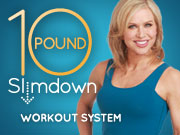 ExerciseTV has a butt load of workouts on there...but I thought I'd sample Chris Freytag's lower body circuit, part of the 10lb slimdown system. It was 20 minutes, and I totally felt the burn halfway through. I didn't find it challenging as far as complicated moves. Her cueing was spot on & really, the level of difficulty is more due to the repetitions. It's 3 circuits & you repeat each circuit. It's fast paced & really left me wanting to see how her other workouts are. There's even a free download online of a schedule to follow, to possibly drop 10LBS...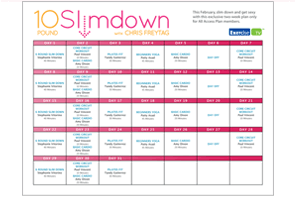 You can get the plan here
I feel like things like this just further re-enforce the fact that you don't have to have a gym membership to be healthy. If you have 20 minutes to spare during the day, you can totally jump start a lifestyle that incoporates working out. If it's important to you, you'll make the time to workout.
I'll get off the soapbox now.
This one also looks like a good workout! It's definitely on my list of new workouts to try.
Now it's time for me to stop procrastinating & go do laundry. Bleh.