Champion 5K is a race hosted by Dicks Sporting Goods during the ESPN Weekend at Disney Hollywood Studios. I think I've mentioned before that 5K's really aren't "my thing" ~ but in this particular case, they only offer a 5K....and let's be honest folks - I really wanted a medal :
We had about a 10 minute drive to the theme park...the race started at 7am ~ so we arrived at 6:15am.
The hubby was ridiculously excited ~ the picture tells all!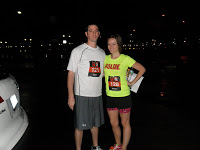 My outfit: Nike Roadie shirt, black cheer shorts with Reebok pink & black zebra volleyball shorts underneath, and my Gel-Noosa Tri 6 Asics ~ my shoe of choice at the moment. (Yes....a variety of brands ~ I haven't received that sponsorship wardrobe quite yet).

The race had a late start ~ apparently there was a bus that was delayed??? I really don't know. But my thought process was that if each participant has their own time chip, why do we have to wait? The clock time is not going to be their race time ~ but whatev, if only I ruled the world...

I had to run with my iPod in hand, and I'm not super coordinated enough to manage an iPod & camara...so no race route shots....except for this one that was taken of my mom pushing my little brother...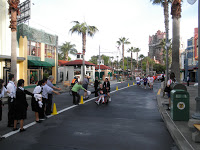 The route was enjoyable ~ music all along the course. I was able to run without listening to my iPod the majority of the time.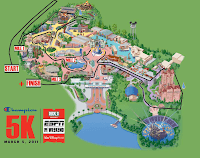 The start was in the parking lot to the left of the park entrance. It started out really, really wide...no crowding at all. But at about 1/2 mile, the course narrowed as it approached the turnaround to head into the park. It was crazy tight & I had to slow down a tremendous amount to avoid tripping over a cone & this one lady. I completed the first mile in 8:27, which is a PR for me. At the first mile marker you loop into the side entrance of the park & begin the next mile in the "backstage" area.
It had rained the night before, so I made it a point to stay on the gravel area as much as possible. I did have to run in some "non gravel" areas - which I can only describe as painted cement....I did that as briefly as possible. I knew I'd bust if I attempted to run on it for awhile.

We finished the second mile by running through the stunt car show & the streets of New York ~ which really throws you for a loop. You turn a corner & see what appears to be a never ending road...alas, it is just a really good back drop. You turn immediately before it.
I finished the second mile around 17:42
The final mile took us past Aerosmith's Rock'n'Roller Coaster ~ a fav of the hubs. And then up & around Tower of Terror ~ where there is an abruptly steep climb. I was really excited about the downhill portion though ~ I had slowed up a bit due to some side stitches. I'm pretty sure I psyched myself out over PR'ing that first mile. All along the last mile are different personalities, like the Spartan Cheerleaders. The last mile took what felt like forever...I could hear the announcers from the start of the race ~ so I knew we were close. The deception of it all though was super annoying...I was ready to be done!
I passed the final mile marker at 27:35 (told ya I slowed down!) Crossed the finish line at a chip time of 28:17 (another PR ~ best race time).
I should have prefaced this all by saying that I wore mascara. Mainly because I look like death without it & well, it's ESPN, there were television camaras. Lesson learned though. As soon as I crossed over the finish line & found the hubs, I IMMEDIATELY regretted wearing it. My eyes burnt like HADES! It was miserable & took a good 5 minutes to stop hurting. AGONY!
END RESULT:
I accomplished my goal ~ beating last year's time
And the hubs accomplished his goal ~ beating me (by 23 seconds) Ridiculous.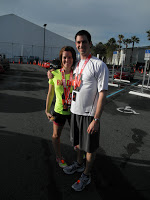 This was smart positioning on my part. Matty is hiding the portion of my shirt that is stained with black from my mascara.
Why yes, we are P90X people...how ever did you tell?!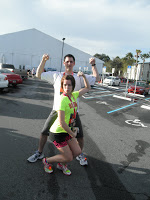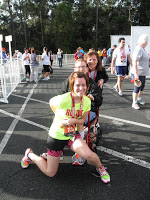 Something not right is going on with my leg here....my brother was telling me to sit on his lap & well, I stunk & felt horrible doing so ~ hence the awkward, side lunge?

Kudos to my mom for pushing my brother the entire race...& with a broken toe. She's hard core.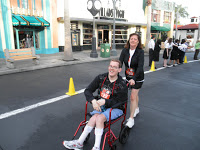 And kudos to my brother for giving away a medal to Mr. Bob...Ralphie has a service dog named Gracie ~ Mr. Bob & his wife Ms. Glenna watched Gracie during the race. This picture was right after Ralphie placed the medal around Mr. Bob's neck - note Gracie rearing to go in the background!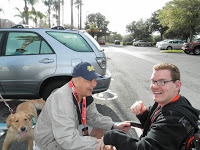 This was definitely a fun 5K to do ~ especially since it turned into a "family race".
Next up: