Ha, did you sing that title? No, go back & sing it!
Here's a fun pic of Matteo & I with the birthday girl last night! We had such a great time celebrating with the family!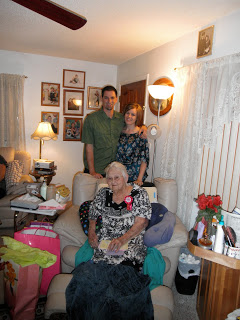 Thanks Aunt Suz for sending me home with the guac! I'm TEARING IT UP right now as I blog...I'm addicted.
My Saturday was another early morning. I have a love / hate with early mornings. I always feel so accomplished by noon for getting up early, but the waking up part just KILLS me. Especially when Matty & Dexter are sawing logs next to me.
Well, I met my girls Emily & Nickie at 7am for our Nordstrom Spring Trend Show! We were greeted at the entrance by Nordstrom personnel who gave us our cute little tote bags with goodies inside. The first part was a "beauty bash" where we were able to have coffee and light refreshments, while we waited to be let in to the store where the show would take place. It got crowded real quick!
There were giveaways during this time as well...and even though the lady was using a microphone to announce the winners...other ladies still felt the need to push in front of us. Um, rude.