Today is the 115th Boston Marathon! I've got the Boston site bookmarked to track the day's progressions. I can only imagine how much adrenaline is bouncing around that city right now! It's really making me want to be there :)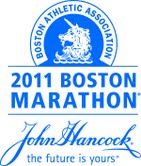 If you're interested here is a link to the course route.
Pictures of the 3 different bibs used today...which determine wave & corrals



Red bibs start at 10am, white 10:20am, and the blue at 10:40am
Naturally, I was looking for the finisher's medal, race pack goodies, and tshirt information. Why can't I ever find the important information???
And I just pulled this off the Boston site....here are the qualifying times in case you've got your sites set on Boston:
2012 Qualifying Times (effective September 25, 2010)
Age Group Men Women
18-34 3hrs 10min 3hrs 40min
35-39 3hrs 15min 3hrs 45min
40-44 3hrs 20min 3hrs 50min
45-49 3hrs 30min 4hrs 00min
50-54 3hrs 35min 4hrs 05min
55-59 3hrs 45min 4hrs 15min
60-64 4hrs 00min 4hrs 30min
65-69 4hrs 15min 4hrs 45min
70-74 4hrs 30min 5hrs 00min
75-79 4hrs 45min 5hrs 15min
80 and over 5hrs 00min 5hrs 30min
*An additional 59 seconds will be accepted for each age group time standard. For example, a net time of 3:50:59 will be accepted for a 42-year-old woman.
For the 2013 Boston Marathon, qualifying times are more stringent, and must be run on or after September 24, 2011. Like the 2012 registration process, the acceptance of official race entrants will be based on qualifying time, with the fastest qualifiers (in relation to their age and gender) being accepted first until the race is full. All qualifying times are subject to review and verification.
2013 Qualifying Times (effective September 24, 2011)
AgeGroup Men Women
18-34 3hrs 05min 00sec 3hrs 35min 00sec
35-39 3hrs 10min 00sec 3hrs 40min 00sec
40-44 3hrs 15min 00sec 3hrs 45min 00sec
45-49 3hrs 25min 00sec 3hrs 55min 00sec
50-54 3hrs 30min 00sec 4hrs 00min 00sec
55-59 3hrs 40min 00sec 4hrs 10min 00sec
60-64 3hrs 55min 00sec 4hrs 25min 00sec
65-69 4hrs 10min 00sec 4hrs 40min 00sec
70-74 4hrs 25min 00sec 4hrs 55min 00sec
75-79 4hrs 40min 00sec 5hrs 10min 00sec
80 and over 4hrs 55min 00sec 5hrs 25min 00sec
*Unlike previous years, an additional 59 seconds will NOT be accepted for each age group time standard.
Notice the time changes between qualifying for 2012 & 2013?
I'm really wanting to branch out in to the world of marathons...and gain the title of "marathon-er"...but I find it so flipping intimidating, to the point that I have yet to really start training for any. I know that I should probably just register for a half, that way it's on the calendar, I have a specific date & just need to get on the ball!
Have you completed a marathon or a half? Any tips for a newbie?
In other news...I'm still a very red shade of...RED. In case you missed it...here is the post from Saturday.
I plan on getting a longer run in today, in honor of the Boston Marathon...cheesy? Maybe. Make sure to do some sort of exercise today! Aim for a minimum of 30 minutes of activity. Your body will thank you!