Tired doesn't even begin to describe it. Another exhausted Monday morning.
Dexter got all handsome this weekend...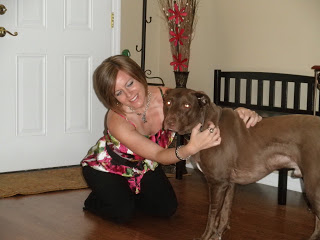 ...& he still would not sit still long enough for a picture. I took him to the groomer Saturday while I was baby shower-ing. I always just want to cuddle with him after he goes to the groomer...he smells amazing, (minus his breath), and he's so soft. He is just not a cuddler. It's really frustrating.
We spent our Easter afternoon at my grandmother's, eating way too much & playing SkipBo. And Matteo getting in touch with his barista side, learned how to use a Keurig.
In case the Easter Bunny brought you some dinero in those eggs, here are some sales of note for today:
Ideeli: Betsey Johnson
Gilt: Tibi, Denim Shop (featuring various brands, I'm assuming)
Hautelook: 7 for All Mankind (men & women's)
RueLaLa: Tom Ford, Tea Forte (all tea products in honor of Mother's Day), Shade of Grey (home decor items in, you guessed it, shades of grey)
theFoundary: serving pieces
Let me know about any amazing purchases or great finds!
Did anyone else over eat this weekend???