MattyB and I had to take a trip to Long Beach, CA for a business convention this past weekend. We left the humid southeast Friday night & arrived in 2 hours later to LAX :)
Oh that time change.
So here is a wonderful synopsis of our trip as told by
Instagram
& pictures on my phone.
If you ever make it to Tampa, FL....you must pay a visit to
The Columbia
. It's a historical landmark & it has some awesome food. It was a pleasant surprise to find that our airport now has a mini version!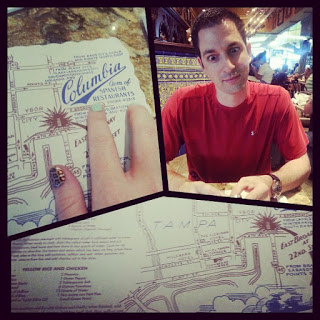 admiring my nails & my "special date" :)
So I ate these sinful creations called 'black bean cakes'. Literally like a deviled crab, but without the crab & with black beans. They were served with sour cream AND guacomole. It took every bone in my body to NOT spoon the remainder of the guacomole into my mouth.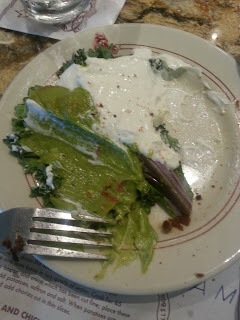 temptation at its finest!
Boarded our plane at 7pm EST, landed in California at 9:15pmPST.
Hopped off the plane at LAX with a dream & no cardigan.
It was chilly.
After a horrendous time at LAX, we finally made it to our hotel. I'm not gonna lie, part of the "horrendous" visit comes from the fact that it was a total buzz kill. I had built up this grand idea in my head that I would have some celebrity sightings & that TMZ would stop us on the way to our car.
Neither happened. Buzz kill.
So anyways, the car took us to our hotel & we hit the hay. Flights from the east coast to west coast & vice versa are so draining.
We had to get up early the next morning to tend to business. Once that nonsense was done, we meandered about the area.
ventured to the marina area
Looked for lunch around 10am PST because we were still on EST.
Ended up at the movies to see The Hangover 3 (a matinee....holy cow).
Once we had our fill of touristy shenanigans, we ventured back to the hotel. I indulged in a fabulous Frap & some people watching.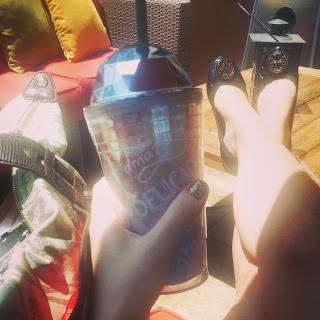 perhaps i should have opted for tanning....
We had business to do that night, so off to the races it was.
Jacket: XXI
Followed by an overpriced dinner at a restaurant in the marina area.
The next day was more business.
By this point my feet were KILLING me.
Top: Nordstrom
I love my wedges, and rarely have the chance of wearing them. So duh, a weekend away with the hubby, no baby - I was pulling out all the stops.
Pssshhhhhh! My feet were not having it.
We finished out our day with a yummy meal at Yen Sushi on 2nd Street. Delish!
riding the elevator down :) didn't snap a picture of Yen
Our last day - I bugged
Sarah
to meet up with me for coffee. It was such a refreshing break from work. She's as down to earth in person as she is on her blog.
Top: Nordstrom (annivesary sale)
After coffee it was back to the convention for the last time! I sported flats rather than the wedges. Finally wised up a bit.
Once our business portion of the trip was finally done, we had a few hours to waste. So we ate at the Rock Bottom Brewery across from our hotel. Granted it was 4pm PST, so we arrived in perfect time for their happy hour. I have zero interest in beer, but appetizers I'm ALL about - - -> and they were YUM!
After engorging ourselves we walked again & ended up at this $1 Book Store.....literally everything is $1. I'm too much of an impulsive buyer and felt like I HAD to buy SOMETHING. Seriously, it was a BUCK!
However it was such a stressful situation because nothing was organized. It was like rows of books that were sometimes in alphabetical order by author, but many times just stacked one in front of the other. Rummaging is not my forte.
Needless to say, I grabbed a sub par book by a familiar author.
By this point we scurried back to the hotel to wait for the car.
navigator aka concierge
The hotel had the cutest little lounge area. It was decorated like a boutique hotel. Crystal lamps, zebra print chairs, very modern furniture, and eclectic accents. This was my favorite spot to people watch.
It was time to leave - so back to LAX.
I detest red eyes.
Landed in the good ole Trampa, loaded up, hit Starbucks, stopped in to the office, and then picked up this cute little nugget!