So, a few things that have made me happy lately are....
#1 - My hours changed at work! I get to come in around 8:30 / 9:00AM now! (It was 6:00AM.) So this week I've been able to get a workout in & breakfast all before I leave for work. It's been amazing.
#2 - Matteo turned in his 2 week notice at his current job, because he got a sales position at my job!
#3 - This past weekend we celebrated my dear friend, Emily's birthday....which meant quality time spent in Hyde Park at Anthroplogie & a cute little French pastry shop, Sophie's.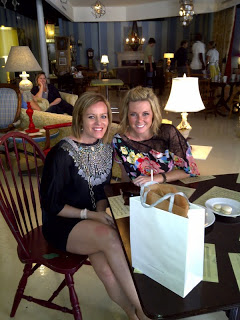 at Sophie's pastry shop
So, #2 may be a 50/50 thing for most of you...but I'd love to know your opinion on working with a spouse.
Can you do it? Would you do it?
There's pros & cons to everything in life, but in this case I really feel like the pros outweigh the cons.
Any exciting news that YOU want to share?
What's been making you happy lately?
My workouts this week have consisted of
Physique57
volume 2 57 minute workout & advanced express 30 minute workout. Which by the way - these discs totally kick butt. If it wouldn't be infringing on copyright laws, I'd post videos of them on here for you to demo. Legit stuff right there.
I've only had 1 run this week - a 4 miler. For some reason, my left hip flexor has been extremely sore & has been making my runs insanely difficult.
I know, quit whining.
Today is the last day to enter the
iTRAIN giveaway
!!!
Only 2 of you have entered so far...why isn't there more interest in the product?