Ha, lovely title, eh?
Friday night MattyB & I celebrated our 5 year anniversary. He surprised me with a date night! Woohoo! Well, actually I knew we were going to have a date night, but I did not know where. So my gracious MIL came by Friday after work to watch Beau-man for us.
MattyB took me to
The Melting Pot
:) I had laid on the hints pretty heavy, that I really wanted to go there. Our last experience there was nearly 3 years ago. I am always a fan of the place, but he wrote it off after our last visit. Why? Not because of gross food or poor service, nope....he wrote it off because they ran out of pineapple. Yup. Out of pineapple. This particular location is next door to a Publix (grocery store) - so he definitely asked our server if they could just go to Publix & get some. The server was not amused.
So back to our Friday night date. If you are into fondue, you would LOVE this place.
We opted to 'go big or go home' so we did the 4 course meal. Cheese fondue, salad, meat, and then dessert. Here is what we ordered:
Cheddar Cheese Fondue
Aged, medium-sharp cheddar and Emmenthaler Swiss cheeses, lager beer, garlic and seasonings.
You get dippers for the cheese:
apples
peppers
cauliflower
carrots
bread
His & Hers salad
He went with the house, I went with the mushroom. (Side note, the restaurant used to make this amazing mushroom salad with an Italian Parmesan dressing. They slowly took it off the menu, but would still make it upon request - and then finally, they did it away with it entirely. Friday night I was able to get the salad style, but the dressing is now obsolete :( It was the most amazing salad.....it's so sad!)
Classic (meat portion)
For the meat, you get to choose which cooking broth you want to use.
We went with:
Coq Au Vin Burgundy wine infused with fresh herbs, spices and mushrooms.
The meat plate was a nice variety:
Angus beef
Sirloin (marinated in teriyaki)
Herb crusted chicken
Shrimp
BBQ pork (I opted for extra shrimp rather than this)
Along with the meat, you get veggies - potatoes, broccoli, and mushroom caps.
They bring out a slew of sauces, my favorite is the green goddess. So good with the mushroom caps!
I love mushrooms.
Bananas Foster
Bananas and a hint of cinnamon swirled in white chocolate create the fondue version of this favorite dessert. And, we didn't forget the heat as we flambé it tableside.
We wanted to try a new chocolate fondue, so we went with this one.
It was AMAZING.
I don't even like bananas.
You get bite size pieces of these to dip:
brownie
chocolate chip cookie
strawberries
marshmallows
pineapple
Our server was awesome. We had told her about the pineapple incident at the start of the evening....she remembered & went ahead & brought out extra pineapple for Matt.
I have been horrible with taking pictures of us lately. My phone has mainly pictures of Beau.
But I did manage to snap a few....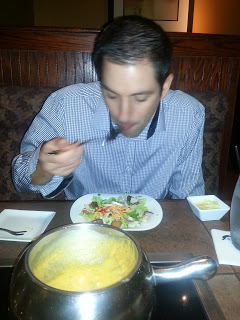 Blurry MattyB & his salad....
(the cheese was gone by now)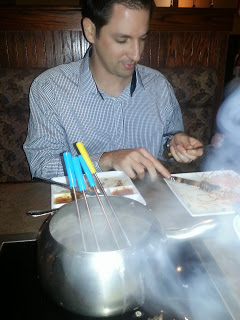 Apparently there is a method you need to follow when cooking your meat.
I thought it was just poke, stick, and drop.
Nope.
Melting Pot foul.
He used my skewers to cook the rest of his meat.
I was going too slow & he was hungry.
Of course, a little fashion....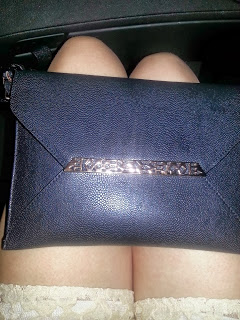 Hone in on the clutch here. Not my white legs.
Rose gold hardware!!!
And the wristlet portion that you use to carry it, detaches & turns into a wrap bracelet!!!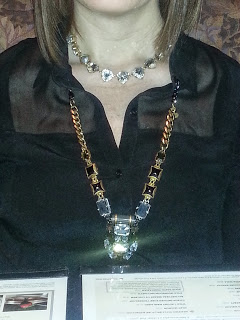 Headless woman shots are so the latest rage.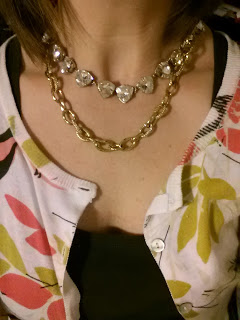 Case & point.


Haha, oh gosh, no pictures of us together to commemorate the night! Anyone else lose a ton of brain cells with child bearing?
Needless to say we were ridiculously full after eating all of that yummy food!