If you've been reading the blog lately, you know my focus has shifted from detailing runs & races....to detailing barre workouts. But the love for fashion has not changed.
So when Kevin over at
Trusted Health Products
asked me to review their Runner's Choice serum.....I was like "wellllllll" - - - but then quickly obliged ;)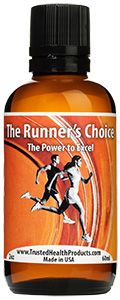 The cool thing I discovered? It's not just for runners!!!!
I have used this for so many scenarios:
attending Pure Barre
all day cleaning & laundry
running
walking our local theme park
So it should really be called "Runners/Walkers/Barre-ers/Everydayer's Choice"!!!
Some things to note:
The Power to Excel

The Runner's Choice is scientifically formulated with 100% natural botanical oils of almond, eucalyptus, eucalytol, wintergreen, peppermint, and spearmint. Unlike many commercial creams and lotions, the botanical oils in The Runner's Choice are very easily received through the pores in the skin, with simple topical application, and no rubbing.

(Info taken from manufacturer)
See all those oils listed? You smell them upon application....and unless you're going barefoot, you quit smelling them when you put on your socks & kicks.
Contrary to what I thought....I was not "slipping & sliding" after application!
Unlike many commercial creams and lotions, which require rubbing in, the botanical oils in The Runner's Choice are most effective with gentle topical application, and no rubbing. The body recognizes the natural properties of these botanicals, and receives them very well as they gently soak through the pore openings in the outer layer (epidermis) of the skin.
So of course, the company wants YOU to try it out!!! Check out the Rafflecopter below!
Giveaway ends 9/4/15 and there are THREE WINNERS!!!! (US & Canada only!)
a Rafflecopter giveaway
Incase you don't win the giveaway.....
For a limited time, the manufacturer is willing to offer my readers one FREE bottle. They said they would love to have our readers try out The Runner's Choice and agreed to send one bottle FREE if our readers would pay a minimal shipping and handling charge. This is a one-time only offer!
Click here to get your FREE bottle now!