Does anyone else have issues with their ipod?
I just synced my run for today....4.56 miles & went to review my mileage for the month. It only logged today's run for this week.
FRUSTRATING
I ran 2.4 yesterday, & it's not showing up.
It could be operator error...but honestly, it's the same routine after every run.
I just hope it doesn't do this tomorrow. I have the 10K...
Yes I have until 4pm on April 28th to sync it...but I only have a small window of time where I'm able to run.
Is anyone else planning to run this event?
Speaking of - my shirt arrived...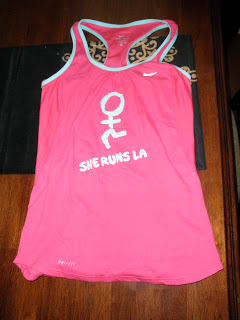 Cute!!!
And if you're in the market for new running tops - these Nike tops are great. Super comfortable & great fabric.
I'm off to entertain Dexter until Matteo arrives home from work.
I have a weird hankering for sweet potato - - - dinner is planned!
Do you ever get weird cravings after a workout?
I always crave milk after a long run.