It's been a bit longer than a hot second that I've done this kind of post!
First things first - fashion.
My ensemble for this Fabulous Friday: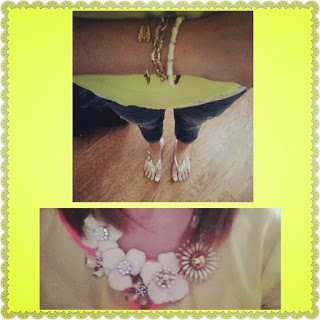 Cropped jeans: Miss Me via
Buckle
Shoes: Naughty Monkey via
Buckle
I've been doing an obscene amount of shopping at Nordstrom & Buckle as of late. Nordstrom will always be my true love, but Buckle was this hidden nugget that I just recently found courtesy of the bestest Erin. I would always just walk by the store front, judging it, & assuming that they would never have anything I like.
PSSSHHHHH!
Don't you just love it when you're proven wrong?
Tell me, I know you can relate! Have you ever judged a store only come to find out that you actually REALLY REALLY like it?
In other news, I've reversed my cardio & weight training. Meaning, I'm now devoting 3 days a week to weights & 2 to cardio.
I'm kind of liking it.
Weight days consist of circuit training with a heavy weights. I go through 5 exercises doing 10 to 12 sets, then repeat the circuit 3 times. I do my abs on these days as well. (You know, that set of muscles buried deep under layers of insulation?)
Cardio has been mainly HIIT. Sprints on the treadmill mixed with walks, all done at an incline of 8% or 10%.
Making an escape from the FL to head to the west coast today!!! Super excited!!!
What are your plans this weekend!?