I'm a misinformed ding dong. As I mentioned before, I thought this race was starting at 4/27/11 at 4pm EST....um no, that would be 4pm PST.
womp, womp
So naturally, I started getting really aggravated when I synced my run & it didn't automatically apply. And then I saw the time difference...
However, the great people at Nike+ recommended I contact the info email address & explain the problem. I did, they of course put me at ease explaining they could fixed everything.
Naturally, I have a dark cloud that looms over my head & my run still didn't appear. So today, I re-ran the 10K.
This was my first 10K...I'm super proud to have finally done something other than a 5K....even though this was only a virtual 10K. And hey, I ran it twice!
Prior to the race, the organizers sent out a "challenge" email associated with the race. Challenging me & others in my area / region, to run the race in the shape of the letter "R". I opted to not partake in the challenge for a few reasons:
I could not get Nike+ website to cooperate when I was trying to use the map feature

In order to start at my house & run the required distance in the shape of the letter "R" is impossible. The letter "S" however IS possible...& I didn't want to be the only tard monkey running an "S" route.

Mattpew had meetings today, which meant he couldn't stay & work from home = Dexter in his crate for 8 hours. I felt guilty coming home, letting him out, and then crating him again so I could leave & run an "R".
So I chose to run an "I" and used my TM ~ me being a tard monkey was inevitable. I embraced it & ran my "I" as best as I could. Luckily I just synced my run, not my route :)
I had a great supporter....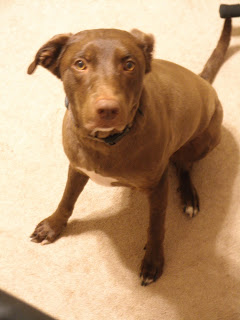 The race route entertainment was superb....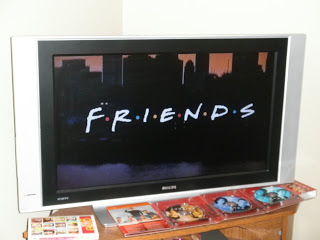 I didn't get anxious over the issue of "will there be port-o-lets or not??"...because I had one right down the hall...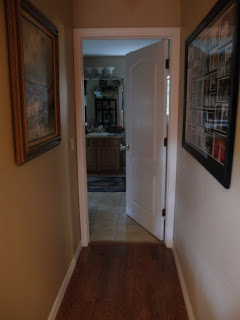 And I even got some well wishes from Mr. Bass on my way out of the potty...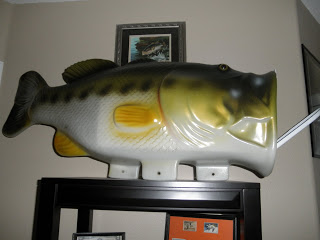 :) Matt had the decorating decision when it came to the guest bath...
so it's all "bass fishing" themed. Mr. Bass here keeps our TP safe
I ran this race without receiving a finisher's medal. That right there is a big deal folks.
Yesterday my time was 54:29, today my time was exactly 1 hour. Can I just take the average please? I really wanted to be under 1 hour.
Either way, it apparently wasn't fast enough for Dexter...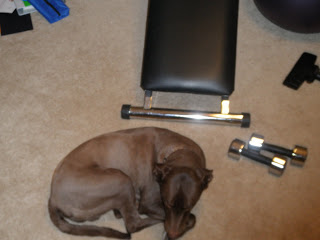 I get my best sleep during movies, he gets his best sleep next to the treadmill

Post race, I indulged in a bowl of cheerios with honey drizzled on top; while the chicas that did this race in LA got to enjoy a Michael Posner concert!