womp womp...that was my alternate post title.
Matty & I left the house this morning at 4:30am, to meet my fellow IronGirls, Shannon & Nickie, in order to carpool over to Clearwater. We arrived at dark o'thirty, scored an AH-MAZING parking spot right by the expo area, and then got geared up in the parking lot. Ding dong over here, your's truly, popped her zip tie that I was supposed to use to attach my chip to my shoe. So for the next 20 minutes we were on a hunt to find IronGirl personnel. Luckily we hit the jackpot & found a nice gal that gave me 2! Score! I used both.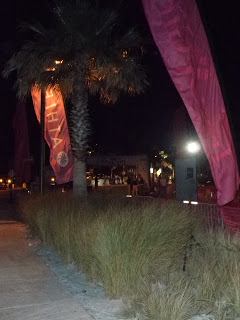 And then we stood in line for 40 minutes in order to use the potty. WOW.
Matty & Shannon's hubby, Dave decided to be spectators today...which totally scored them brownie points. So I was able to get a pre-race photo with my hubs...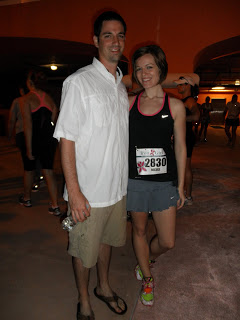 and then us girls...
So I'm pretty sure that popping a zip tie prior to a race start, is a bad omen. Kinda like breaking a shoelace. This race was just horrible for me.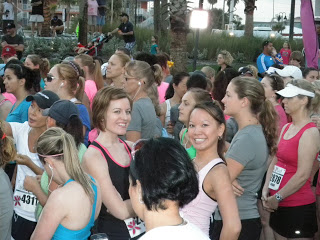 pre-race confidence...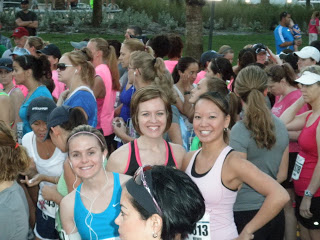 ready to get the show on the road!
I had already decided that the 3 of us needed to be as close to the front as possible, to avoid having to dodge the walkers. We were super close...and at first I was worried we were too close & would end up pacing the 6 minute milers. Once the race started though, I realized we were fine in our placement...but there were STILL WALKERS that we had to dodge! That's where I exerted a ton of energy, speeding up, slowing down, and weaving in & out. There were no designated corrals for the 5K (at least that I saw)...so I'm thinking that maybe if there were, this whole problem could have been avoided?
Either way, by mile 2, my bladder decided it needed to potty again. So I ended up walking (bleh), with intermittent sprinting the entire mile. By mile 3, I seriously thought I was going to wet my britches. I was so bummed when I crossed the finish line. My goal was to beat my ESPN 5K time & I ended up finishing in 29:30, womp womp.
Shannon & Nickie however, totally rocked the race!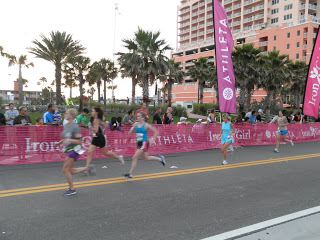 check out Shannon, aka Speedy Gonzalez, in the blue top & black shorts
I'm super proud of them...Shannon was 26:43 and Nickie finished at 31:54. Nickie completed the Gasparilla 8K back in February, and didn't feel like she could do better than a 12 minute mile ~ she totally blew it out of the water today. Congrats girls!!!
We took a final race picture with our medals...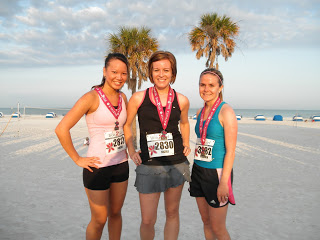 & my pastey white self stared longingly at the beach...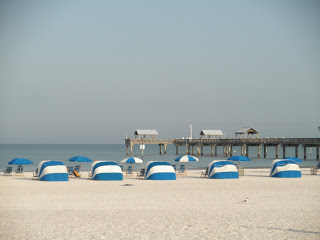 while the guys reminded us that it was time to LEAVE and get BREAKFAST!
So we made a quick dash through the expo area...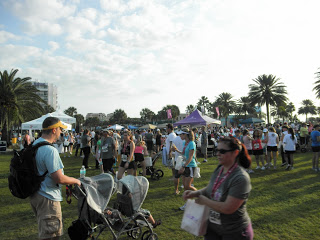 and then ignored all the traffic rules in order to go PIG OUT at a random restaurant we found...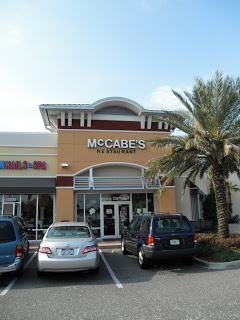 it definitely hit the post-race munchies spot...and I MOST DEFINITELY consumed more calories than I expended.