A jam packed weekend has left me with a "weekend-over". Matty & I OD'd on family time, I got some great shopping in while he got in some baseball at the Rays v. A's game; and we got our grub on a ridiculous amount with an amazing homecooked meal, a visit to the Columbia, and a visit to Cheesecake Factory. Yumm-O!
Saturday was supposed to be my long run - but after 3.2 miles I pooped out. I used one of iTRAIN's treadmill workouts - & I think it's worth sharing the details about it. Here's a link to hear a sampling of the workout....
http://www.itrain.com/workout/119
The workout is 4 phases, and offers 3 different levels: walker, jogger, runner. I normally always do the runner level or just under it, perhaps at a halfway point between jogger & runner. You start out at a fairly comfortable pace (9:30 per mile), once you reach about 1.2 miles (or 11 minutes in to the workout), you are prompted to walk at 4.5mph for 60 seconds. After the 60 seconds, you have your first of four sprints (the speed varies based on the level your working - walker, jogger, or runner). Your incline varies from 1.5% to 3% throughout the course of the workout.
The workout lasts a total of 60 minutes, with the goal of completing: 4 miles for walker, 6 miles for jogger, or 7 miles for runner. I really like it for the speed training, and since I have the natural tendency to compete, I normally always compete with the distance I clocked the previous time I used this workout.
I followed up the run with
Physique 57's Thigh & Seat Booster
. 30 minutes of blasting your thighs & rear. Ouch.
And incase you were wondering, here's how to dress up for going out - when it's blazing saddles hot outside: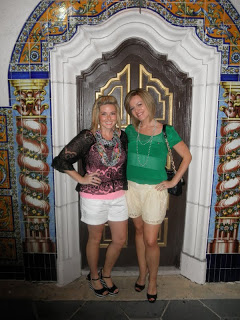 Shorts & Heels!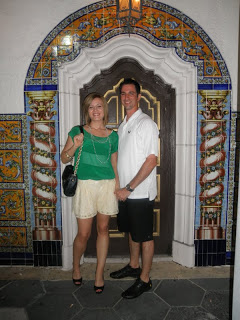 Top: Anthropologie
Shorts: Ella Moss via Anthropologie
Shoes: Jessica Simpson
Bag: Elliot Lucca