Well paint my front door red & call me Elizabeth Arden!
Friday night, I was invited to attend the Peace Couture fashion show at the lovely
Italian Club in Ybor
!
What is the Peace Couture? This is from their
website
:
Peace Couture is a multi-media event highlighting local fashion designers, artists and musicians. The latest local fashions will be spotlighted in a spectacular runway show, featuring a live performance by Zulu Wave. The event will also feature a "pop-up" retail area with some of Tampa's most unique vendors of clothing, accessories and jewelry, as well as a "nail art" bar. The featured artists will create site-specific installations in the Italian Club Theatre. After the runway show join us for an after party featuring a performance by GUILTMAKER.
Since my birthday was the day before, I figured it could be a fun little "girl's night out". So I made Emily go with me - kicking & screaming that she had to be seen with me :)
The Spring of Tampa Bay
hosted the event. Here's some information on The Spring taken from their website:
The mission of The Spring of Tampa Bay, Inc. is to prevent domestic violence, protect victims and promote change in lives, families and communities. Since our founding in 1977, The Spring has provided sanctuary and services to more than 60,000 abused adults and their children.
Since the fashion show portion did not begin until 8:30pm, Emily & I browsed the "pop up" boutique portion of the event. Loved it!
Some of the paticipants were:
Stella & Dot
- which was funny because when I explained to MattyB that I was asked to cover the event, he was like "oh, for your Stella & Dot biz?" - - I had to then remind him that at a relatively not too long of time ago, I was
a fashionable blogger that everyone was vying for. No?
A & A Boutique
- cute little "repeat" boutique. Here's where I plan to take all my Louboutins & Blahniks when I tire of wearing them. Wait a sec, what am I talking about? I mean, when I actually OWN a pair.
Creme de la Creme
- Tampa's "cutest little gift shop"! Emily was ecstatic to see Tyler candles on their display! I was oogling over their fun cocktail napkins, especially this one...
Bella Faccia Med Spa
- they sponsored a "nail art bar". We spent a rather long time here :) I can tie in a quick review of
Sally Hansen's Nail Effects
here, right? Great. While I didn't actually
apply
the stickers, they appeared to go on rather easily & turned out fab! And let me just say, the esthetician that was running this fun little nail art bar, has a deeply kept beauty secret. She looked to be about 25....when in fact she was turning 40 the next day! She wouldn't tell me her secret.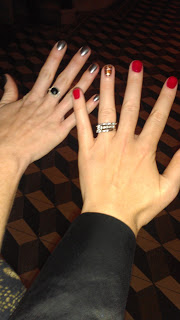 my red nails & leopard art, Emily's metallic nails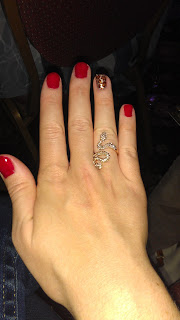 i was just a wee bit obsessed with how it turned out :)
ring is Sidewinder by Stella & Dot
There was also a silent auction going on, with paintings & a scultpure done by local artists. I have never been good at interpreting art. So how would you have interpreted this piece?
So 8:30pm rolled around - we made our way to the 3rd level of this beautiful building.
The fashion show consisted of 4 local fashion designers, a boutique in Ybor and then the Spring Boutique. I was actually really excited for this portion because I had missed our Tampa Bay Fashion Week event, and these designers showed there.
First up was
Spathose
...."wearable sculpture" - INDEED!
Second,
Sandra Hagen
Third,
Monstruosite by Dolly Donshey
- made me want a blinged out eye patch!
Fourth,
Wicked Betty Designs
Fifth,
La France
which is a vintage boutique in Ybor.
and the show closed with the
Spring Boutique
The Spring Boutique portion featured local celebs like Miss Florida, and the lovely
Serina Farzan
from our local ABC News.
Something informative that was done, a gal came out in between each different designer with an alarming statistic painted on to the back of the canvases that were being auctioned off.
When the events came to a close, I had the munchies (naturally - shopping does that to you). So we walked next door to the tasty
La Creperia Cafe
and chowed down!
Shockingly, this was my first experience with Nutella. It was good in the crepe, but I'm not a huge fan of it by itself. Then again, what's not good in a crepe?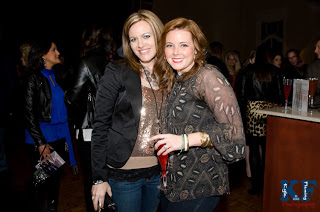 Medina Bib necklace by Stell & Dot
Photo courtesy of Kyle Fleming Photography
So I never ever claimed to be a good photographer....check out some legit pics of the event here:
http://www.proofing.kyleflemingphotography.com/event/100588