Did you get a workout in yesterday, in honor of the Boston Marathon?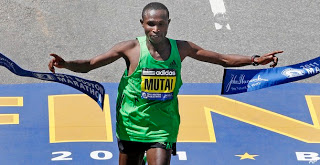 YAHOO! headlines this morning had this to say about yesterday's winner:
Kenya's Geoffrey Mutai ran
the fastest marathon ever
on Monday, finishing the Boston Marathon in 2 hours, 3 minutes, 2 seconds. Despite the blistering time, Mutai's mark isn't being recognized as a world record.
Why not?
Even though it's considered one of the most challenging marathon courses in the world, the Boston Marathon is run on a net downhill, making it ineligible for world records. USA Track and Field only recognizes courses that meet specific criteria about elevation changes as record-eligible. Those courses must drop less than one meter per kilometer to fit the standard. For a 26.2-mile race, that's about 137 feet.
The Boston Marathon begins at 475 feet above sea level and drops all the way to 16 feet by the end. The total drop of 459 feet is well past the record-eligible specifications. That means Haile Gebrselassie's time of 2:03:59, set in Berlin in 2008, will remain the world record.
I feel bad for the guy! I understand the reasoning...but even so, a 2:03 finish time is amazing!
So yesterday I logged 5 miles on the TM...and then eagerly caught up on as many Boston Marathon recaps as possible!
I got to thinking about training...and how these marathoners are marathoners by trade. They work 40+ hours a week, training for their "job".
On average, how many days a week do you workout? How many hours?
Which leads me to my next question...

when do you prefer to workout - morning, afternoon, or evening?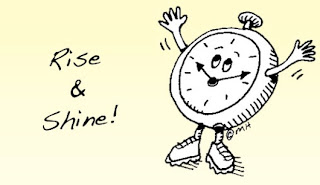 Before I was married, I worked out in the early mornings. I was at the gym by 5am, and then to work by 6:30am (Remember, I don't care what I look like at work - I did re-apply the deodorant though. Considerate, huh?) I loved working out early in the morning. I prefer working out on an empty stomach, and this allowed me to do that. There's still a lot of controversy about working out on an empty stomach versus eating first...so I'm not saying that one way is better than the other. I firmly believe it's dependent on the individual & what they're body can handle. I also liked that my workout was done for the day - I didn't have to worry about having to skip a workout due to plans for the evening.
Presently, I workout in the evenings. I'm at work by 6am, I have a 30 to 40 minute commute pending traffic, and I live with a man that is not an early riser. Ultimately, it's that last fact that prevents me from early morning workouts. It's unbelievably hard to get up in the morning when someone is laying next to you out cold. Plus he's a night owl...and in order to get in some quality time, I stay up later with him. (Before we were married, I was waking up around 4:30am, and going to bed by 8pm). I'm lucky if I make it to bed by 10pm.
For me, I feel like morning workouts are so much more productive for my day. Evening workouts sometimes interfere with our social calendar...and some days, I'm totally un-motivated to do anything once I leave work - including working out.
What are your thoughts???