P90X is DUNZO!!!!
I'm really, really, really glad to be done with it.
So this post is totally my opinion and my thoughts on the P90X system.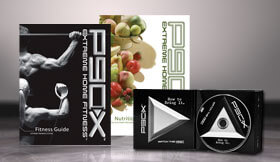 As with any other workout program...you have to make the time for it. Since this was a dvd based program, it was ultimately up to me & the hubs to pick when we would do the workouts. I prefer morning workouts ~ but with our work schedules being entirely different, evenings were our prime opportunity to do P90X. It's been second nature to me to arrange my workouts week to week, based on plans & such. For Matt, and I'm sure many others, it's not second nature & especially since Matt isn't a "planner", it started to become more of an inconvenience for him.
P90X was developed on the structure of muscle confusion. Meaning, our muscles begin to adapt to the fitness regimens we do, so P90X is 3 phases, with 7 different workouts. Each phase lasts for 4 weeks (3 weeks of intense circuit training, 1 week of recovery).

The strength workouts included:
Chest & Back
Back & Legs
Shoulders & Arms
Chest, Triceps, & Shoulders
Legs & Biceps
The cardio workouts included:
Plyometrics
Kenpo X (variation of kickboxing)
Cardio X (combination of Kenpo X, Plyometrics, Yoga, & Core Synergistics)
Also included:
Core Synergistics
Ab Ripper X
Yoga X
I loathed the days when we had to do Chest & Back ~ it was predominantly pull ups & I suck at them. (Who likes doing something they are not good at?!?) I grew really bored with Plyo & Kenpo by day 35...as did Matt, so on those days we subbed in Cardio X. Cardio X is one disc I will still continue to incorporate with my workouts. (I also am a huge fan of the Core Synergistics disc ~ that's another keeper!)
Ab Ripper X is a 16 minute abdominal circuit...which, it's really a great workout, but after completing a hard strength circuit, it was sometimes really difficult to find the extra energy to complete the abs. We decided to change it up a bit on some of the days & do Ab Ripper first as opposed to last.
I love working out my legs & arms...so I really looked forward to those days! Plus I got to wear my super cute Femme Fitale gloves. (Matt was super jealous he didn't have a pair.)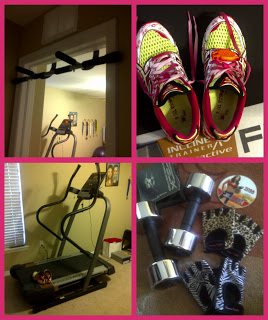 We never did Yoga X together...we attempted it once, but then Matt ended up yelling at the TV & then started to critique my poses, which really irked me, so I shut it off. We did Jillian Michaels' Yoga Meltdown instead...haha :) Yoga X is an hour & a half....Yoga Meltdown is 40 minutes. Plus the Meltdown is faster paced...which in turn means if you're a newbie to yoga, you probably won't like it. The cueing isn't that great, so it's better to go into this dvd knowing the basics. Yoga X is too repetitive for Matt...it's a true yoga class. You build off of each move & work up to the most complex of them.
I wasn't 100% on board with the nutrition plan. If you need a jumping off point to clean up your diet, it's not a bad start; but neither Matt, nor myself, followed it. I figured out where we should be at as far as caloric intake based on our goals. We increased our veggie & fruit consumption, and I was finally able to get Matt onboard with whole wheat options.
If you're looking for a nutritional program to follow, check out Cynthia Sass' CINCH eating plan. (I studied under her at USF) She's a registered dietician ~ not a random celebrity ~ telling you how to eat.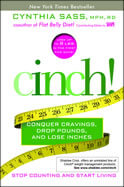 Matt only did the P90X workouts, whereas I still ran.
So a typical evening for me was:
Run 4:30 to 5:30
P90X strength or cardio 6 to 7 / 7:30
Ab Ripper (on strength days) 7 to 7:20 or 7:30 to 7:50
So pretty much by 8:30, my grandma tendencies kicked in & I was out cold.
Okay so now for my critiques:
I wish we had the Bowflex quick change dumbbells...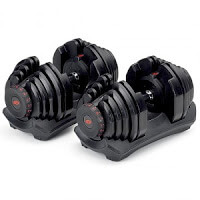 It
got really cumbersome changing weights throughout the workouts ~ plus, there were times I needed heavier weights / lighter weights...but was limited by what we owned. These would have been an amazing option.
I felt like this system is truly geared towards men. The women 9 times out 10 had on a sports bra & teeny shorts ~ and that's not me speaking out of jealousy, because the women did have amazing bodies. The men on the other hand, always had on shirts & basketball style shorts or pants. I think it only fair that the men take off their shirts. Ha!
Tony Horton got really annoying ~ and I feel horrible critiquing that ~ but it's true. His sayings became normal "speak" in our house & to our other friends that were also on the program. 'Bring It' & 'I love it, but I hate it' are now forever etched into our vernacular. Luckily the dvd's come with the option of just music, or just music & cues...so that helped...a bit.
I enjoyed working out with Matt ~ that's what I liked the most. I did see changes in my endurance & strength capabilities ~ which is great. I think that anyone interested in this system should definitely try it out, but get a workout partner. It will make it that much more interesting, plus you'll be more likely to "stick with it".
I really enjoy incorporating dvd's and experiencing other trainers' techniques. I think it's a great way to stay not only active, but also to stay up to date on current fitness trends. If I don't agree with something in the health & fitness realm, I need to have firm information as to why. Ignorance is not bliss. Hence why, I try out various workouts. I haven't decided what system I'm going to try out next...there are a few that I'm torn between:
Tracy Anderson ~ I've read some pretty amazing reviews about her techniques
Physique57 ~ again, amazing reviews, and I really like how ecclectic it is
Insanity ~ another Beach Body workout; just looks super intense