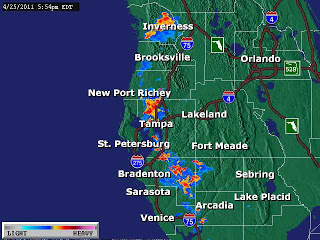 Typical summer time weather in Florida. The forecast says 20% chance of rain, but once 4pm hits, that percentage goes to 100%.
And then you see tweets like these:
Storm Team 8 WFLA-TV Dime sized hail reported around Hillsborough in Tampa. Hail also possible south of Temple Terrace east of 275. #weather #flwx

24 minutes ago · via TweetDeck
Luckily I got my run in...on the TM since it was already really grey on my way home from work. I opted for only 2.4 miles today (stopped when I heard the rumbling outside). I have a 10K Wednesday, and I'd really like to finish in well under 1 hour. I finished up my workout with a core circuit from the Women's Running magazine. I was pleasantly surprised with the level of difficulty! The moves by themselves were not hard, but combined in the circuit, it was really good!
I was supposed to go root on Matty at his softball game...but due to the dime sized hail and inclement weather...GAME WAS CANCELLED. Shucks.
What are you doing tonight?
I'm not gonna lie....I'm really looking forward to Dancing With the Stars.