As a company,
Stella & Dot
had a "Pop Up Shop" week where stylists like myself set up our displays in businesses across the U.S!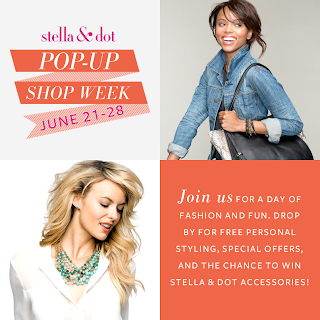 You can see all the different locations by following the #stelladotstyle on
Twitter
or
Instagram
.
I was invited to set up at the grand opening of
Crave
spa in New Tampa. (They have another location in South Tampa.)
Here are some pictures from the fun event!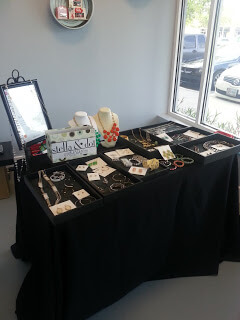 my condensed display....with many favorites!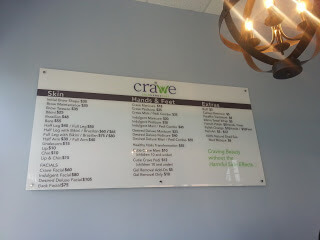 the CRAVE menu of services!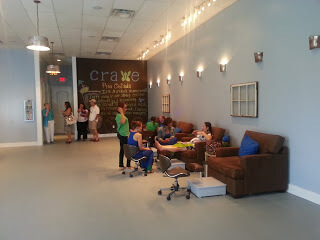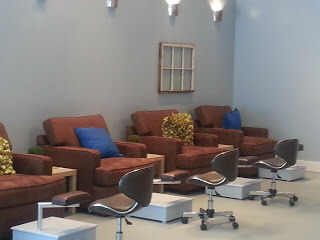 look at those plush chairs!
I was itching to be pampered
I took some time to read up on Crave & their mission in this industry. Check this out....(all taken from their
website
)
Cleanliness

At Crave our main focus is cleanliness and your well-being.


We believe in eliminating any risk of bacteria by using pedicure bowls with liners that are disposed of after each use versus whirlpool baths (a.k.a. spa chairs).
*Whirlpool baths pose as a hazard if the pipes are not properly cleaned and thoroughly washed using an anti-bacterial solution. Not only do these footbaths harbor such infectious bacteria, but they also contain hair and skin pieces from previous clients and have been known to cause infections, boils, skin irritations and scarring.


Safety

At Crave we have set the highest standard in sanitation.


The sanitation and sterilization of equipment and surroundings are very important at Crave Nail Spa. At Crave we understand how the spread of disease can be prevented and become familiar with the precautions that must be taken to protect our clients' health. All of our instruments undergo a rigorous sanitation protocol. We begin by using a hospital grade disinfectant that destroys bacteria and prevent its multiplication. In addition, we place all implements in a dry heat sterilizer to kill bacteria. All cleaned implements are then packaged in a sterilization pouch after their cleaning, and a new one is used on each customer. At Crave our technicians wear latex gloves during your pedicure treatment to avoid the spread of any bacteria.
*Please keep in mind that just because tools may be pulled out of a pouch does NOT mean they are necessarily sterilized to proper specifications.


Paraben-Free Products

Crave's line of products keep the health and well-being of our customer in mind.


We believe natural is best and offer polishes that are safe to the individual and environment, no toxins here! They are free of parabens, toluene, formaldehyde, and DBP.
Why say no to parabens? Parabens are used frequently in personal care products to increase the shelf life of a product. According to scientific research, parabens have been linked to breast cancer and problems associated with reproductive issues.
Why say no to formaldehyde? Formaldehyde when inhaled can cause breathing difficulties and headaches. It can also create reproductive problems such as low fertility.
Why say no to Toluene? Toluene produces reversible effects on the liver, kidneys, and nervous system. It is used to make nail polish coat evenly.
Ummmmmm!? That should make you WANT to go to Crave!
The owner, Joezette Hite is the sweetest, cutest, fashionable mom (of 3). She founded this business off the idea of "creating a salon for pregnant women to use". She was a pharmaceutical rep & knew how prevalent chemicals were in day to day life. You can read more of her story
HERE
.
The next time you are in the South Tampa area or the New Tampa area, pop in to get your nails done, without being scared ;)