Wednesday PM - got in another 3 mile run
Total mileage for Wednesday = 6
So are you planning to watch the Royal Wedding?? Or are you utterly over the hype?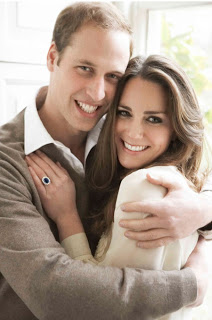 I saw on Yahoo! headlines, an article on how Kate is NOT tossing her bouquet. (Which probably means the DJ won't be playing "Single Ladies"...)
It was pretty interesting to read the reasoning behind it:
British royal protocol dictates that instead of being hurled skyward and giving one lucky and sure-handed girl a superstitious shove toward marriage, Kate's bouquet will come to a far more solemn rest.
As she heads back down the aisle at Westminster Abbey, having completed her nuptials to become either Her Royal Highness Princess William of Wales or another title of the queen's choosing, she will take a moment to lay her floral creation at the Tomb of the Unknown Warrior, a historic grave embedded into the church floor in 1920 to commemorate anonymous soldiers killed at war.......
....The tomb, carrying the body of an unidentified soldier brought home from the first World War, is a revered site in British military history. It became etched into royal tradition in 1923 thanks to Elizabeth Bowes-Lyon, who would later be known as the queen mother....
Did you toss the bouquet at your wedding? If you're not married, what do you normally do during the bouquet toss - knock out the competition with your elbows...or make a mad dash to the potty to avoid the custom?
I chose NOT to throw my bouquet. Instead Matt & I thought we'd honor the longest married couple that attended our wedding. So the DJ coordinated the whole thing, and we were able to pass off the bouquet and the garter.
Back to the article:
...But what of the flowers that will be laid there? There has been some mystery regarding the creation....
Whatever form it takes, it is virtually certain that it will contain the royal staple of myrtle, known as the herb of love. Queen Victoria planted a myrtle bush at one of her residences, Osborne House, in the 1840s, and every royal wedding bouquet since has contained a sprig taken from the same plant.

What flowers did you use in your wedding? Or what flowers do you plan to use / would like to use?
Myrtle


Princess Diana used it in her bouquet as well...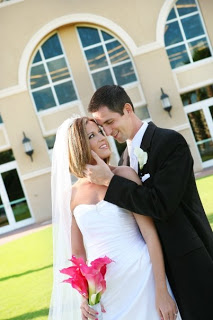 LOVE :)
I love calla lillies, so my bouquet was the fuschia version & I asked the florist to attach crystals around the rims. My MOH's carried white callas with one fuschia, and the bridesmaids carried all white bouquets.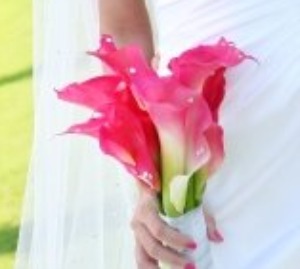 You kinda get the idea - not the best close up
I'm actually really into the royal wedding stuff...only because of my grandfather on my mom's side. He was from England (Yeovil to be exact), and I used to always bug him about our family - I was pretty indignant that we were in fact royalty. Grandpa was the comedian in our family. He looked like Dick Van Dyke & could move like Charlie Chaplin.
He passed away in August of 2001, months after seeing me graduate from highschool. We were very close & it may just be that anything tied to England kinda makes me feel like he's still here.