This morning MattyB, me, & a group of our friends from church, headed out to our local Feeding America warehouse to volunteer.

Here is some information about the organization from their website:
Across the country one in six people struggles with hunger. Of the 37 million people who are unsure where their next meal will come from, Feeding America Tampa Bay provides food to over 400,000 people in our 10 county service area in West Central Florida.
As a food bank, Feeding America Tampa Bay is a resource to hundreds of approved charities that run some type of feeding program. These include soup kitchens, emergency food pantries, emergency shelters, and Kids Cafe sites.
This agency partner network is a very efficient way to get food to those in need according to need, and it is our general means of distributing food.
An amazing fact:
In 2010 Feeding America Tampa Bay distributed almost 19 million pounds of surplus donated food into a 10-county service area in West Central Florida. It was accomplished in partnership with hundreds of approved non-profit charity partners, direct distributions, and our Kids Cafe programs.
So, our group had the pleasure of organizing the food for distribution. Us gals took on the juice/coffee aisle, while the boys tackled the condiments/crackers/snacks aisle.
Our aisle looked so much better :)
For real, I have never been around so much Capri Sun...holy fruit juice. My OCD tendencies kicked in full force (luckily my friend Shannon is also Type A so she completely understood). Together Shannon & I totally tackled the Capri Sun. Oh we didn't just organize the shelf....no, those puppies were grouped according to flavor as well.
Okay, we may have gone a little overboard.
Do you volunteer anywhere?
Afterwards, we rewarded ourselves with lunch at this little gem: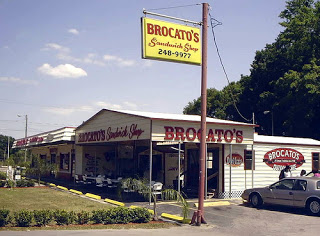 They're pretty well known around here. Matty prefers their cubans & deviled crab (which is like the size of your head!...I could be exaggerating....but it's huge, definitely big enough to share). I haven't quite figured out what I like best...but I definitely got the man taking our order to raise his eyebrows at me when I ordered a cuban without ham :)
Matty decided to go golfing after lunch....so I decided to do my long run. 9 miles, my longest distance to date for running.
My knees are killing me. Probably from the bending & squatting this morning, and then the run.
Did you get a workout in today?
How did you spend your weekend?
My Friday night was spent at the ball fields...being a supportive wife. MattyB's softball season was coming to an end, so he had the championship games. Thursday night there was a double header, and then another double header Friday night.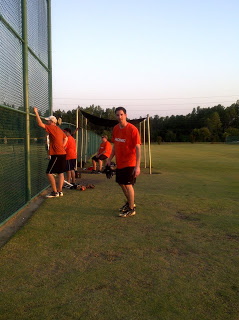 matt & a few of the "orange crush" players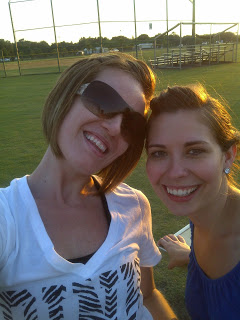 luckily amanda was there or else it would have been a really long 2 hours
And now it's time for some Real Housewives of New Jersey.
Don't judge.