Yesterday's run...was dreadful.
It was a 'mile repeats' run: 1 mile warmup, 1 mile @ 8:25, .5 mile recovery, 1 mile @ 8:25, .5 mile recovery, & 1 mile cooldown.
Here's what actually took place:
1 mile warmup
.75 mile @ 7.2mph - - > look at ipod to check my pace & see that it's reading "10:00/mile"....I then start cursing the day it was created.
Hop off treadmill to get other ipod...oh, yes, I DO have a dark cloud over my head...the other ipod is DEAD.
Back on treadmill for .5 mile recovery while trying to correct the ipod's calibration.
.5 mile @ 7.2mph - - -> super frustrated that I can't get an exact judge on my pace.
1.5 miles @ 6mph - - > which my ipod interprets as 11:34/mile
Needless to say, I want to get all Office Space on my ipod & destroy it with a baseball bat.
We'll see how today's "easy run" goes.
I love how Dexter looks at me when I start yelling at the ipod nano.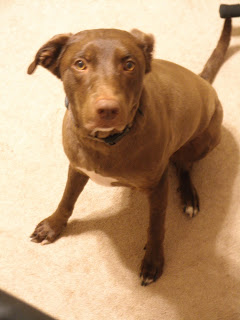 "mom, you're crazier than me"
After the horrid excuse for a run, I opted to do Jillian Michaels' Shred It With Weights dvd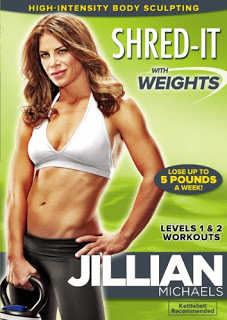 You have the option of using a kettleball or a dumbbell. I chose to use my new 5lb kettleball. I think 8lbs would have been better for me, but whatevs.
I did Level 1. Both Level 1 & 2 are 30 minute circuits (25 minutes of hard work, 5 minutes of warmup / cooldown).
It's circuit training but with bursts of cardio. Plus the weight training moves are pretty explosive...meaning it's not just a bicep curl or overhead press, you're literally swinging that kettleball around.
The house made it out alive after the workout. I feared a bit for the television at times, but alas, I gripped that kettleball like there was no tomorrow.
I'm interested to see how much more advanced Level 2 is.
Have you tried this dvd before? Or do you ever incorporate kettleballs?
*****************************
So, have you heard about the summit?
Is anyone planning to attend????
*****************************
I fell asleep during Modern Family last night...which led to me sleeping through Cougar Town.
I hate when that happens.