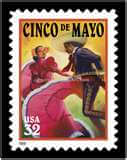 We had our Mexican meal 2 nights ago, or else I'd definitely be noshing on something Mexican themed for dinner. I made something on the lines of an open faced quesadilla bake?
I really don't know what to call it, but it was good.
Cooked 2 chopped up chicken breasts with rosemary/garlic, and 2 tsp EVOO
Heated up some black beans on the stove while the chicken was cooking
Once everything was heated/cooked, I layered all my ingredients in a pan like this:
2 whole wheat soft taco shells on the bottom (side by side)
Layer of 2 more shells, side by side
Shredded cheese sprinkled on top
Baked it for 5 minutes at 400*, then another 5 minutes at 350*
I consider it a good meal when:
1. Matteo goes back for seconds
2. Matteo asks "is there enough left for lunch?" as opposed to "you'll eat this for lunch tomorrow, right?" (the second question pretty much implies, "it's on you babe to finish this hot mess or toss it")
3. Matteo says "this has good flavor" (he says that I'm hard-to-please, but he's just as hard-to-please when it comes to food)
4. Matteo doesn't eat a bowl of cereal right after dinner or at any other point that evening
So, if you're going Mexican tonight in honor of the festivities, here are some helpful tips:
**Guacamole ~ even though avocados are a great source of good fat, they still have to be consumed in moderation. Don't eat all the guac! (preaching to myself here)
**Chips ~ if you can't skip them, be modest & pick a number in your head of how many you'll eat. Stick to that number (like 12, 14...not 50)
**Watch out for the taquitos / flautas / chimichangas, since they tend to be deep fried
**If you're a sucker for sour cream (like me), try using Greek yogurt instead
**Try sticking to black beans as a side item & skip the rice, especially if you're craving chips
********************************************
I opted to take a rest day yesterday rather than do any circuit trainings. So instead, Matteo & I went up to Dick's Sporting Goods, Ross, & TJ Maxx.
I don't know what it is, but the fishing section of Dick's Sporting Goods, really makes me want to take a nap.
Anyone else?
Matteo picked out more fishing lures...(as if he needs more)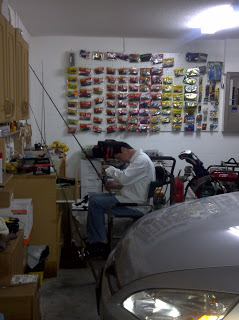 those are all unopened packs on the wall...
and he says I'm a collector...
psh!
I love that he's so passionate about fishing :) makes me feel better about myself with my crafting supplies.
Once he decided he had found the best deals - we headed over to TJ, to get our Maxxinista on. I found kettle balls for $5.99 & $9.99! Ross was kind of a bust...it wasn't the right day to find any treasures, for me at least. Matteo always finds great deals there & walked away with some goods.
Find any great deals lately on fitness equipment, clothes, etc?
Today is my tempo run...followed by a kettle ball circuit (maybe). I really want to try them out today, but who knows how I'll feel after the run.