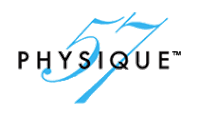 I was a bit apprehensive in beginning the Physique 57 program...only because it's in the "barre method" category. I had attempted barre method before, but since I had never taken ballet, was at a disadvantage in the past. The previous instructors would cue wth "first position", "plie'", "arabesque", etc., which was a foreign language to me. I figured that as long as it felt awkward, I was probably doing it correct.
So while the Physique 57 program is a barre method program, in no way did I feel like I was at a disadvantage for not having the basic knowledge of ballet. (Now, gracefulness & balance...that's a different story.)
Physique 57 website describes the program as this:
The Physique 57® technique is a focused and proven cardiovascular program of isometric exercises and orthopedic stretches designed to rapidly transform your body. Our interval training sets use your own body weight for resistance and combined with dynamic exercise sprints, muscle groups are targeted and overloaded to the point of fatigue and then stretched for relief. We call this process Interval Overload which includes muscle-defining arm exercises, intense thigh and seat sequences, waist-chiseling ab moves and fluid stretches to create a long and lean, supple body.
Their website also boasts that you can see results in as little as 8 workouts.
A little company history:
Physique 57® co-founder Jennifer Vaughan Maanavi is a dance enthusiast, Columbia MBA and former Wall Street professional. In 2005, upon the sudden closing of The Lotte Berk Method, a highly respected fitness studio offering the eponymous technique created in the 1950s by a former accomplished ballet dancer, Jennifer realized that she and legions of devout Lotte Berk followers needed a new home. Teaming up with Tanya Becker, one of the foremost instructors of The Lotte Berk Method for over a decade, Physique 57® was born—a modern take on Lotte Berk's fitness revelation, paired with world class business management techniques.
The DVD volumes:
It was advised that I follow a regimen of completing the booster once a week, the 57 minute workout 2-3 times a week, and the express workout once a week; as well as alternating between the 2 volumes each week
Physique 57 also highly recommends that if you are doing other forms of workouts besides the P57, that you complete the P57 workout FIRST.
That is SO correct.
I learned that on my second day. I ran before P57. I thought I'd be in the clear since it was just a "booster" workout, but I was wrong.
You'll also find a little celebrity endorsement...

What you will need:
A chair, or other *waist high* sturdy surface to lean against. (Unless you have a barre.)

Yoga mat

Pillow or a really thick exercise mat (Used in some of the workouts to cushion your lower back.)

Playground ball (included, unless you buy individual DVD)

Two sets of dumbbells, 3lb & 5lb / 5lb & 8lb
Here are how my weeks looked during my 30 days:
Week #1: Volume 1
Monday - express workout, followed by 5 mile run
Tuesday - rest
Wednesday - run 6 miles then arm/abs booster
Thursday - express workout, followed by 4 mile run (
Friday - 57minute full workout
Saturday - 9 mile run
Thoughts: well for one, I messed up & did the express workout twice, and only managed 1 of the full 57 minute workout. So far so good! I'm really enjoying the system! The instructors aren't annoying.
Week #2: Volume 2
Sunday - Vol 1 - 57 minute workout
Monday - 5 mile run
Tuesday - 3 mile run, P57 thigh & seat booster
Wednesday - Vol 2 - 57 minute workout, followed by 4 mile tempo run
Thursday - rest day
Friday - P57 57 minute workout, followed by 4 mile run
Saturday - P57 30 minute express workout, followed by 5 mile run
Thoughts: I kicked off the week with volume 1's 57 minute workout & then switched to volume 2 for the balance of the week. Since the training plan didn't have me running "hard" this week, I was able to do the P57 after a run!
Week #3: Volume 1
Sunday - rest day
Monday - 5 miles, abs & arms booster
Tuesday - Saturday: total bust, unable to workout b/c of car wreck
Week #4: Volume 1
Sunday - still not working out
Monday - 4 mile jog
Tuesday - P57 30 minute express dvd; abs & arms booster
Wednesday - 4 mile jog
Thursday - P57 classic 57 minute workout
Friday - 8 mile jog
Even though I've only been doing the modified moves for the abs sections, I can still definitely feel "the burn". I wish I had a ballet barre...the chair is not the same.
My thoughts on the program:
I honestly, really enjoyed Physique 57. The trainers really didn't bother me, I never felt like chucking the tv remote at them :)
I thought the cueing was spectacular and their instructing was spot on.
I'm not gonna lie though, it was a bit intimidating how flexible not only the instructors, but also the participants in the background, were. I'm pretty sure my groin muscles laughed out loud when I attempted the "anatomically correct split" that we were cued to do during the stretches.
The modifications that are given during the abdominals are still challenging. I opted for those during my 4th week while recovering from the car wreck.
The workouts are fast paced, which I really like. There is never any 'dead time'. In fact, I had to pause the dvd a few times just to have a few extra seconds to get a sip of water & align myself for the next section.
Some things that may be helpful:
If you sweat like a beast (like me), do this workout in yoga pants. There are some moves that require you to place the playground ball behind your knee. (Knee is bent, ball is held in place between knee & hamstring). Seriously, the ball would slip & slide because of the "back of knee" sweat.

Make sure you have a super thick mat or "sturdy" pillow. In some moves you have to position this mat behind your lower back. The instructors also suggest a thick blanket or towel...but those didn't work for me. What did work was a foam posturepedic style pillow.

Physique57 posts monthly challenges on their Facebook page. Once you have a good grasp on the workouts, try out some of their challenges!
The instructors & participants use a ballet barre. By the end of the 4th week I was wanting a ballet barre. A bar stool & chair (yes I tried both), were becoming more of a headache to use. The stool swivelled & the chair slid; plus the backs on both didn't provide enough support for me to position my arms the same as the instructors.

Shaking & burning is a good thing. If it starts to get too unbearable, take a second & relax the muscle group...but then jump right back in!
So have I noticed any physical changes?
Heck yes. I'm kind of bummed though, because while I did go into this thinking that there would be some changes...I didn't think it would be enough to need "before & after" pictures. Wish I had taken at least one of my tooshie, because it has definitely "firmed & lifted" :) I would have loved to see the change.
If you do this program (or any other for that matter), I encourage you to either take before & after pictures or take your measurements (chest, waist, arms, thigh, hips).
What now?
I plan on still using the Physique57 dvd's. It's a really great system if you're up for the challenge of using predominantly your body weight, and if you like the idea of overloading muscles.
If I'm ever in the LA or NYC areas, I would love to pop in to their studio for a class. I'm that much a fan!