Happy Saturday, y'all!
How were your workouts this week?!?
I ran only 3 days this week & totalled 11.81 miles.
I did Physique57 workouts Tuesday, Wednesday, Friday, & today.
Do you track your workouts & what you eat?
I have been using
myfitnesspal.com
to track my workouts & my calorie consumption. If you don't already have a method of tracking it, I totally recommend this website. It's ridiculously, user-friendly!
What I like most is how I can keep track of my calories in/out, and how many I have left each day. At the end of the day, when you finish your entries, you are able to see how you did.
Calories are like a credit card. If you "over spend" you're left in debt. You want to consume less calories than you expend, if your goal is weight loss. On the other hand, you also need to make sure you're consuming an adequate amount of calories based on your activity level.
*************************************************
Last night, Matty & I went out for my friend Betsy's birthday dinner. We went to
Capital Grille
for dinner.
Matty wanted a steak...naturally, since it's a "steakhouse". I opted for tuna.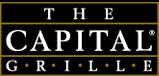 I was super excited for a nice evening with good company....but I was also super excited to wear my new True Religion jeans that I got from the Nordstrom anniversary sale!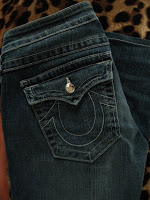 crystal button pockets


Jeans: True Religion via Nordstrom
Shoes: Naughty Monkey via Nordstrom
Bag: Louis Vuitton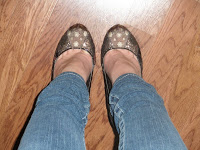 close up of Naughty Monkey's Rock the Heel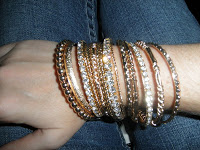 Cara Couture bangles from Nordstrom