I had the opportunity to attend Beth Moore's Living Proof Live tour, this past weekend in Tampa, FL.
If you're unfamiliar with Beth or her ministry, check out her website here: http://www.lproof.org/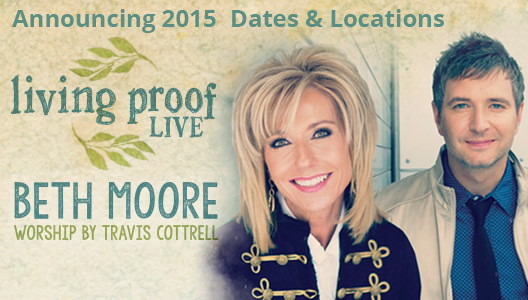 The following was taken from the
Living Proof website
....I just love how they explain their ministry:
Living Proof Ministries is dedicated to Biblical literacy and a commitment to guide believers to love and live on God's Word. Every tape, book or product offered through this ministry is developed to encourage people to know Christ through His Word."For the Word of God is living and active. Sharper than any two edged sword." Hebrew 4:12
Living Proof was founded upon this verse. It is our desire to see people discover and fully experience this truth for themselves.

Living Proof Ministries exists because of the grace and mercy of Christ. It will always exist to glorify Him alone.
Definitely check out Beth's bio here: http://www.lproof.org/AboutUs/BethMoore/default.htm
But to give you a background on her founding her ministry:
Beth founded Living Proof Ministries in 1994 with the purpose of teaching women how to love and live on God's Word. She has written numerous books and Bible studies, including Breaking Free, Believing God, The Patriarchs and most recently, James: Mercy Triumphs that have been read by women of all ages, races, and denominations. Through the years, American missionaries and expatriates have taken the Bible studies overseas, resulting in Beth Moore Bible study groups popping up all over the world. Upon completion of a tour of New England in 2008, Beth's Living Proof Live conferences will have taken her to all fifty states since 1994. God has graciously given Beth the opportunity to serve the body of Christ in many different countries, including Ireland, England, Singapore, the Philippines, Puerto Rico, India, Angola, Kenya, and South Africa. With great joy, she began a radio ministry in 2004 called Living Proof with Beth Moore hosted on OnePlace.com. Also, each Wednesday, Beth can be seen teaching Bible study on the television program "Life Today with James and Betty Robison."
Ever the storyteller, Beth is known to pepper her teaching with stories and poems written from the perspective of pertinent characters. She communicates with great energy, passion, humor, warmth, and grace.
So back to Living Proof Live - each year, Beth's ministry does these tours across the US called "Living Proof Live". It is a time for women (and a few good men) to come together, have some amazing praise & worship time, and then hear a word from Beth.
More on the tour: http://www.lproof.org/Events/Schedule.asp
It is a non-denominational event, so it's super cool to see women from different churches all coming together under one roof. The diversity of the demographic that attends is also really cool to see....women from all walks of life.
Beth prepares a study to present beginning Friday night, and then through Saturday. It's normally centered on one topic, with multiple points that carry through the entire event. I've sat through a handful of conferences, and of course numerous sermons not only at my church, but also various other churches around the US, and I have to say that Beth is definitely gifted in the realm of public speaking. She grabs your attention & does not let it go....mixing doctrine with personal stories.
Now, that you have a little back story on Beth Moore & Living Proof Live, I wanted to share my experience & give a recap, so stay tuned!
**These are my opinions. I paid my way for this event**