I hope your Thursday has been well. Mine has been....t.i.r.i.n.g
BittyBeau had an allergy test done yesterday, which means he had blood drawn. It was so difficult! Telling your 15 month old to sit still while you pretty much lock him down with your arms while he sits in your lap is not easy! Poor little man was terrified.
Which led to a horrendous evening in our household. He did not want to be by himself at all. I think he was traumatized. So needless to say he slept in our bed - not his crib. So 2 cute little feet were in my rib cage or back at any given time during the night. Except when he was 1000 degrees and wanting to cuddle. Such a sweet sweaty child :)
All for 2 viles of blood which will
hopefully
bring clarity to his eczema!
#curseyoueczema
So today - I'm operating on about 4 hours of sleep. (I know that's probably a TON of sleep for you...)
Which means I'm sporting some really awesome bags under my eyes!
My outfit today is brought to you courtesy of
Nordstrom Rack
,
Buckle
,
Tory Burch
, and
Stella & Dot
.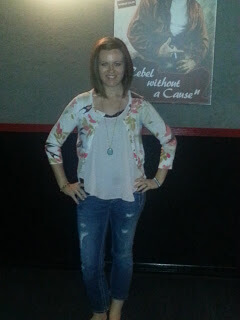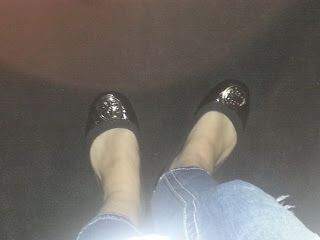 I am really more elated by
my necklace
& my sweater!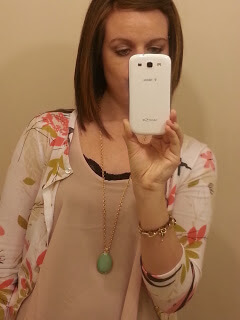 front
the brand of my cardigan is "Charlotte"
and judging by the fact i can not find it anywhere online - i'm thinking it's 5 seasons old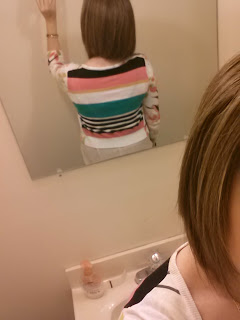 back :)
ignore the super plain bathroom shot....
This necklace
can be worn several ways!!!! It's called the
Sanibel Pendant
:)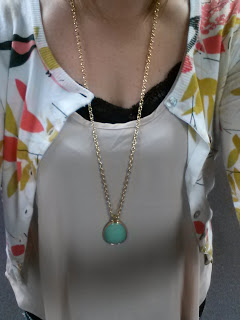 long with green quartz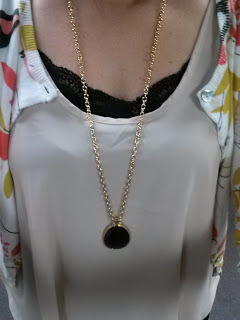 long with smoky glass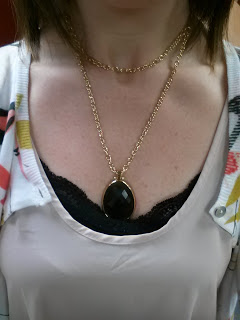 short with smoky glass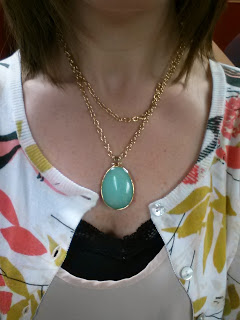 short with green quartz
Here's some
design info for you
....
You'll just flip over this reversible pendant. Wear long or doubled with removable S-hook. Decisions, decisions.

Available in gold and silver.
Gold with smooth dyed quartz shimmers on one side. Smoky facted glass on the other.
Silver with semi-precious labradorite shimmers on one side. Aqua faceted glass on the other.
34.5" long. Necklace length can be extended with our Bold Chain Extender.
Wear long or wear the chain doubled with removeable s hook.
Gold or silver plating.
Lead and nickel safe.
So there is a removable "s" hook - which is the key to shortening it. You can play around with the length when you shorten it....it just depends where you clasp it.
Isn't it cool????
It's an insane amount of bang for your buck!