Just wanted to share this necklace I received back at the beginning of April from Stella & Dot, as a gift. Let's just call it a perk to the business....
There was an incentive program set up that coincided with what we were running for new stylists....if a new stylist joined by January 31st of this year - they had the ability to earn a rebate in the amount of their investment kit! (Um, hi, they in essence would have signed on for FREE.)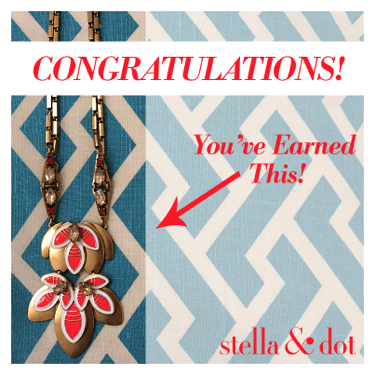 So in turn, us as stylists had the incentive that if we could launch TWO new stylists to success (meaning them sell $1000 during their first 60 days) - then we would earn
this necklace
. If you're rolling your eyes.....stop.it.
When we as stylists bring on a new person, it's referred to as "sponsoring". Sponsoring kind of comes more naturally to me than selling. The hard part with sponsoring is getting those you sponsor to have the same drive & tenacity that you do. That's where it gets tricky.
The fact that I earned this necklace - well that just speaks SO much to me. It means that 2 new gals have taken the HUGE leap of faith to sign on as a stylist, and have since actually earned back their investment PLUS MORE all within 2 months time!!!
I am stoked for these ladies & can not wait to see what else 2015 holds for them!
On another note - this necklace does NOT photograph well, in my opinion. So at first I was like "meh" - over being awarded it. But then I got in the mail.....and BAM. It's a beaut! The color is a "hot coral" and it really is stunning.