Well hello!
Yes, I'm still alive! I haven't drowned in baby drool & spit up just yet!
P.S. if you're contemplating mommyhood, the adventure is worth it. The love I have for Beau is just amazing & indescribable!
So even though I've not been acing the whole "fit" portion of my blog - I've been totally rocking the "fashionable" portion! Holla! (please say that the way
Heather
would).
I scored some awesome pieces at
Nordstrom Rack
this weekend - you can now shop them online through the Nordies main site! None of the pieces I purchased are still available online - BUT I did see these & I think they are so darling.
And I can not leave out the awesomeness of
Stella & Dot
steals!!!
The
Zoe Report
recently featured the Chantilly Lace Cuff as the "parallel universe" item for those of that can not afford (nor bare) to drop $1000 on a Givenchy Lace Cuff.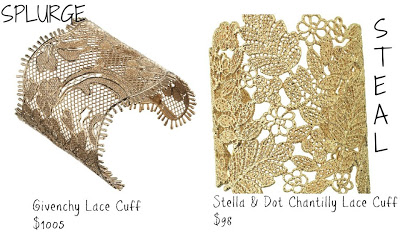 The
Chantilly Lace Cuff
was designed off of an actual piece of lace!!! Our designer, Blythe Harris, picked up lace swatches while traveling in Paris & brought them back to the design studio, thus using them to design our entire
lace collection
.
So in my efforts to really rock this Stella & Dot styling business of mine - I've stumbled across MORE of our fabulous jewelry pieces that are an affordable option to pricier designer pieces out there! Super exciting.
Until then....
xoxo
Your Fashionably not-Fit Femme :)